By Barry Truter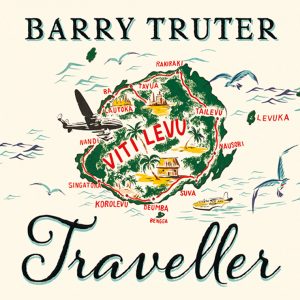 Barry Truter has been a traveller for most of his life. He was born the son of a diplomat whose assignments took his family to a new home every few years. But Truter's wandering lifestyle didn't cease when he moved into adulthood; his first job was as a deck cadet on a merchant ship sailing from Europe around Africa and into the Red Sea. His journeys are reflected in the musical style and diversity of this album of seven originals and seven carefully chosen covers supported by guest appearances from musician friends including Fraser Union bandmates Roger Holdstock, Henk Piket, and Dan Kenning.
Truter's lead vocals accompanied by guitar, octave mandolin and ukulele shine on the album's arrangements, from sparsely emotive versions of Bruce "Utah" Phillips' "The Killing Ground" and the Fijian farewell song "Isa Lei" to tasteful licks and soulful backing vocals by some fine Vancouver musicians on the self-penned "Levuka Town" and Leadbelly's "The Bourgeois Blues."
There is no dearth of content on the album. Originals such as "Song for Robert Dziekanski" and "Ships of the Deep" are reminders that we live in an insecure world of increasing inequity. But there is also hope and spiritual regeneration on offer in the lyricism of "Roll River Free," the east/west musicality of "Dravida" and the anthemic chorus of "This Old World."
Song titles
Levuka Town, Walking Blues, I Wandered By a Brookside, Duncan's Dream/The Soda Jig/Siobhan's Gallop, The Killing Ground, The Bourgeois Blues, Song for Robert Dziekanski, Roll River Free, Dravida, The Amphritite, Ships of the Deep, This Old World, Time to Go, Isa Lei.