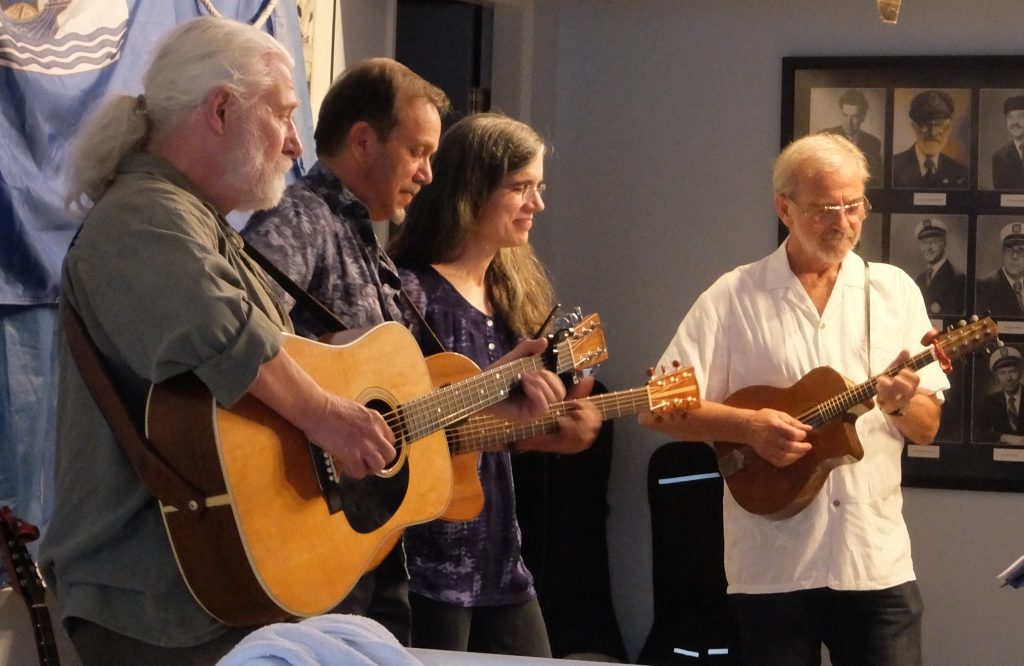 Fraser Union first formed in 1983, and has evolved into the current lineup of Henk Piket, Barry Truter, Kathy Griffin, and Roger Holdstock, while staying true to a passion for performing and recording songs that have a great deal of meaning to the band members and their audiences. A quick look at the range of music on their recordings – BC Songbook, This Old World, From There to Here, Hello, Stranger and Split Shift – indicates that Fraser Union is not easily pigeonholed. 
Many of their songs tell stories of BC: "Bank Trollers" (about West Coast fishing), "Snap the Line Tight" (log salvaging), "The Ballad of Robert Harkness (about the Cariboo gold rush), "Song for Robert Dziekanski", "Canning Salmon", "Truck Driver's Song", "Hard Rock Miner", "Salmon Circle", "Drill Ye Tarriers", "Kettle Valley Line", "When the Tide Goes Out", "The Grand Hotel".
Others come from the workplace: "Coal Town Road", "Chemical Worker's Song", "Woman of Labrador", "Empty Nets" (woes of fishing), "Ships of the Deep" (merchant shipping), "Everything Possible" (child-rearing), "Their Way" (post-secondary teaching), and "The Ghost Program" (computer programming).
But some tell stories from other times and places: "The Last Battle," about the Métis uprising and the last stand of Louis Riel, "The Goodnight-Loving Trail," about the most valuable member on the cattle drive–the cook, "Augustus and Catherine," about the Overlanders and moving West, and "Lady Franklin's Lament," about the ill-fated Franklin expedition.
Fraser Union also sings contemporary songs with a bite: "Pipeline Blues" (oil and gas industry), "Song for Robert Dziekanski", "Canaries in the Mine" (about environmental hazards in an aircraft factory), "One Big Highway" (globalization). Whether on recording or in concert, Fraser Union's repertoire contains no throw-aways.
Fraser Union has been heard many times on CBC radio: nationally with Max Ferguson and Bill Richardson; locally with Paul Grant, Mark Forsythe, David Grierson, Kathryn Gretsinger, Sheryl MacKay and others.
Fraser Union is Roger Holdstock, Henk Piket, Barry Truter, and most recently, Kathy Griffin. Their four strong voices present some songs a cappella and others accompanied by a variety of instruments including guitars, mandolins, dobro and banjo. They've performed, for example, at the Filberg Festival, ArtsWells Festival, Vancouver Folk Music Festival, Vancouver Island MusicFest, Seattle Folklife Festival, Islands Folk Festival, Mayworks, Winter Roots Festival, the National Conference of Teachers of English, the Working Knowledge Conference at UBC, and countless benefits and coffee houses.
For more information, recordings, or bookings, please email Roger Holdstock at holdstockroger@gmail.com, or write to him at 3851 West 22nd Ave., Vancouver, B.C. V6S 1J8.  Fraser Union is also on Facebook and YouTube.