Fraser Union has released the following DVD:
Live at the Tipper (2011)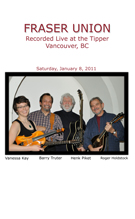 An eclectic collection of Fraser Union favourites and folk classics delivered with warmth and gusto in a cozy and intimate setting. Recorded  live in HD at the Tipper Restaurant & Review Room in 2011.
Song titles: Dark as a Dungeon, Everything Possible, The Truckdriver's Song, Coal Town Road, The Little Beggarman, The Water is Wide, Diesel and Shale, Home Dear Home, Everybody's Crying Mercy, Lady Franklin's Lament, Year of the Long Way Home, Kettle Valley Line, Augustus and Catherine, Cannonball Blues, Liverpool Town, Waltzing's for Dreamers, Since I Fell for You, Westcoast Lullaby, Time to Go, We Are Here in this Place
Available by donation from Fraser Union. Contact holdstockroger@gmail.com.