Vocals, Guitar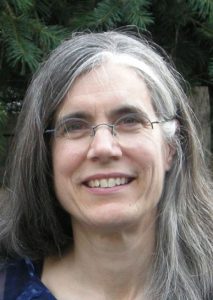 Born in Prince George, BC, Kathy Griffin was raised in a musical home; her mum was a professional pianist, and her dad and sister loved to sing harmony. Kathy started playing guitar when she was 11 but her singing journey didn't start until she was an adult living in Vancouver. In 1995, Kathy and Roger met in the world music chorus Pastime with Good Company—this is when she first became acquainted with Fraser Union's music.
With her deep voice, she has sung tenor or baritone in countless folk groups, choirs, and choruses. Kathy's keen interest in harmony has led her to perform in many styles ranging from folk and world music, to choral, barbershop, and Broadway. In 2016 Kathy received her 3 year diploma in Jazz and Contemporary Voice. She enjoys tutoring adults in Beginner Music Theory and Solfege, and harmonizing with anyone (or anything) that has a pitch!
Kathy believes that music is what bonds people and helps us feel connected with one another. For her, singing with Fraser Union embodies the very essence of community, connection, and harmony.